6th Generation Brewer Sato Jumpei's Resume
Childhood, Elementary School Years ("TATENOKAWA" Newspaper 10/05/2012)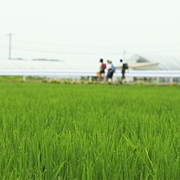 I was born in October 1978, in Hirata Town, Yamagata Prefecture.

Before Hirata Town merged with Sakata City, it was a small town with a population of approximately 8000 people. I lived there in a family of 7: my uncle, aunt, father, two brothers, my mother and me.

As a child, I suffered from Asthma — attacks would often come in the middle of the night followed by visits to the hospital — but in my 3rd year at primary school, I joined the junior baseball team, and from 5th year, became able to play the trombone in a marching band; from that point on my body gradually got stronger.

After coming home from school I would play outside — It was the country, just one big playground. I always played with other kids from the neighbourhood, we would go into the mountains, and play hide and seek and tag in the village. In the summer, we would go and fish in the rivers and bogs almost every day. We would of course catch river fish: carp and crucian carp, bitterling, etc. One time we even managed to catch a giant turtle. We liked to take our catches back home with us where we would keep them in a pond or tank and get joy out of looking after them. In the winter, we would sledge down the mountains behind the house. I used to stay out until late, playing in the snow, and build a snow ramp by myself

I remember it as a time of fun, when the 'family computer' and 'Bikkuriman', the animes 'Saint Seya' and 'Meat Man' were popular —I was mad about all of them.

I wonder how everyone else spent their childhood?
6th Generation Brewer Sato Jumpei